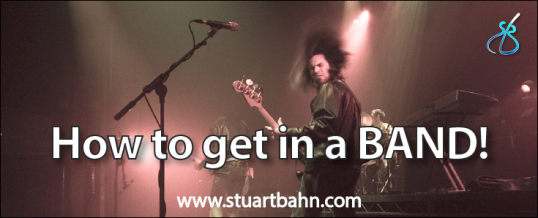 So you've been playing guitar for a while and you want to play music with other people. In this article we'll look at some of the different approaches of how to get in a band.
To start with, there are two fundamental decisions to make:
Do you want to play original music or covers?
Do you want to start a band of your own or join one that's already established?
Forming your own original band
Do you already have songs written?
You ought to have some at least partially written before trying to form a band. Or at least have found yourself a writing partner to start working with.
If you have no material it's going to be very difficult to convince others to invest time in your project.
Where do you find your band members?
There's no single answer to this but there are a few good options to consider.
Placing an ad in a live music related publication or website is a good start.
You can post a message in a local community forum or a Facebook group page for your local area..
Hang out at jam nights and make an effort to get to know a few musicians.
Place an ad at a local college, or better yet a music college.
If you don't get much response the first time around, don't give up. It may take a while but persist and sooner or later you will get a response.
How to get in someone else's original band
As with forming your own band, you can put up notices in publications, forums and colleges saying you're a guitarist interested in joining an original band.
In addition, you should look for adverts by bands that need a guitarist.
Be warned though, there are millions of guitarists in the world! You are far more likely to see adverts by guitarists looking for a band than a band looking for a guitarist.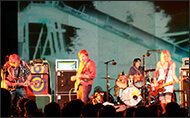 Joining an already formed band may mean doing an audition.
This can be an intimidating experience so find out what is expected from you and prepare suitably before you go along – but do go along!
One of my audition experiences
Years ago, the night before an audition, I very nearly abandoned going because I didn't feel prepared enough.
I was convinced that someone else auditioning would do a much better job than me. As it turned out, my imaginary rivals can't have been as prepared as I expected, because I got the job.
In the years that followed I performed hundreds of paid gigs for that band all over the country, and gained some fantastic experience.
But I could have missed out on it all because of a little self-doubt.
As Woody Allen said; "Eighty per cent of success is showing up".
Even if you're not sure you're up to it, go through with an audition if you get one. As a minimum it will be good experience that will prepare you for the next one you do.
Look at things from the band's point of view
Bear in mind that many bands will not be looking for the next Eddie Van Halen. Dazzling them with your amazing technique might impress them but it it's not what they're looking for, you're out.
They just want someone who is 'right' for their band, whatever that means to them. If they have recordings online, listen to them!
If they don't have any recordings online then you can always ask them what they're looking for upfront. This isn't cheating; this is showing you have a brain!
Most important of all though, they will definitely want someone that can be relied upon. So make sure you arrive at the agreed time; which really means arrive early!
If your equipment is unreliable, get it sorted out; it doesn't have to cost the Earth, you just need gear that won't let you and anyone else down. Check out my Recommended Gear for Guitarists page for my suggestions. Make sure you have plenty of spare guitar picks
, guitar strings
, guitar leads
, etc… have spares of everything!
Forming your own covers band
This could be a band that plays pubs, a wedding band or maybe a tribute band.
Unlike most original bands, you can expect to make money performing in most covers bands – see my article 'How to make money with your guitar – Part 2: Performance and beyond'.
If you have never played in a covers band before, I strongly suggest that you get work in someone else's cover band first.
There really is no substitute for getting first hand experience in a business before you try to go it alone.
The responsibility of forming your own covers band
If you are going to be a bandleader then you will have to take things seriously and run the band professionally.
This means organising rehearsals, creating a website with professional looking photos, recording a good quality demo, and you will of course have to get the gigs.
Be sure to know what kind of gigs you want to do before you get too far down the line.
Your repertoire and image must match what your audience expects. Although you may love Frank Zappa, if you're trying to get wedding gigs you're not going to get much work!
See my article 'The gig that never happens' for what else not to do!
How to get in someone else's covers band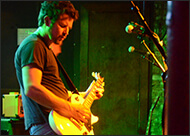 For most, it's not hard to find working covers bands.
If you live in a town, try heading down to your local live music bar. Most of these places have several bands on rotation.
Pluck up courage and introduce yourself to the guitarist(s) – ideally not right at the end of the gig when they're packing up and about to go home.
You can be straight and tell them that you're looking to get some experience playing live.
If you're playing is up to it, offer yourself as a 'dep' for when they can't do a gig and need someone to step in.
As with original bands, there may be a number of covers bands that advertise a vacancy in music forums and publications, so keep an eye out.
However you get to know a working covers band, you might well have to attend an audition of some sort, so be sure to prepare well.
Networks and getting in bands
There really isn't a single guaranteed method of how to get in a band. But, as in many areas of life, you really can't beat personal recommendations.
So whatever you want to do with your skills, be sure to ask around.
You never know who might turn out to be the crucial link in your social or professional chain.
Even your great aunt Gertrude may have just had a chat with her neighbour, whose cousin just happens to be starting up a band and is looking for a guitarist just like you!
photo credit: delarge via photopin cc
photo credit: Robert Scales via photopin cc
photo credit: Chris Devers via photopin cc
If you liked this article on how to get in a band please share it with others: