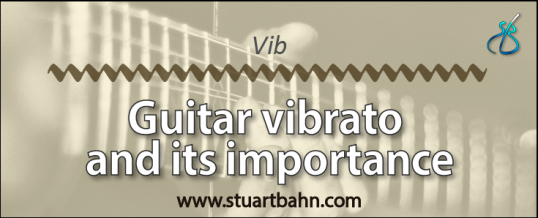 Unless you play nothing but straight-ahead jazz guitar, vibrato is important. 
Good well-defined vibrato brings life to a guitar solo and is a significant part of what gives a guitarist their 'voice'.
Weak vibrato, or no vibrato at all, can leave a solo wanting.
Listen to a guitar solo by Stevie Ray Vaughan, Jeff Beck and Mark Knopfler and you'll hear three very different vibratos.
So what makes one guitarist's vibrato different to another? There are three main areas:
Vibrato Width
The width of one's vibrato needs to be tailored to the style of music that you're playing. In rock and metal, vibrato is often wide; two or three semitones.
In a sensitive ballad vibrato tends to be much narrower.
The width of your vibrato does not have to be something that is fixed. An effective approach in some situations is to gradually widen your vibrato as the note rings on.
Speed of vibrato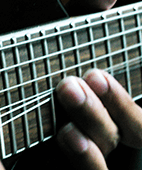 The speed of your vibrato also deeply affects the character of your playing.
In my experience, when many rock and metal guitarists first start to use vibrato it is often too fast.
Fast vibrato, especially thin and fast vibrato, can tend to sound tense or nervous.
Surprisingly, fairly wide but slower or medium paced vibrato tends to sound much more exciting in rock and metal music.
Having said that, there are guitarists that do use relatively fast vibrato that is much admired.
Examples of this would be BB King and Paul Kossoff, though their style of music is blues and blues-rock respectively rater than straight ahead rock or metal.
Vibrato onset
What I mean by this is how soon we apply vibrato after the note is struck.
You don't have to apply vibrato immediately after you pick a note. Holding back a moment before applying vibrato can be very effective, or gradually 'fading in' the vibrato as the note rings on.
Delaying the application of vibrato is something used to great effect not just by guitarists but also singers. Try Whitney Houston's rendition of 'I will always love you' for a well-known example.
A demonstration of the importance of vibrato
The video below is part of 3 of my Youtube series 'How to improvise on Guitar'. This video was primarily about using long notes in our improvisation however, at 1m 57s I also highlighted and demonstrated the importance of applying vibrato to long notes. Take a look and if you'd like more free guitar lessons be sure to subscribe to my Youtube channel.
Discover your own vibrato
As with much in music, there are no rules to be obeyed but that doesn't mean that everybody's vibrato is just as good as everyone else's!
If you have never consciously examined your vibrato then it is very likely that it could be much improved. Practise with very simple, familiar phrases so that you don't get distracted by technique or creativity.
Record yourself and listen back critically.
Do you like how it sounds?
If not, make an adjustment and record yourself again.
Listening out for vibrato
Listen to the vibrato of guitarists that you like. Identify the three variables described above and try to emulate them.
The goal is not to develop vibrato that's identical to someone else's; it's just to try different approaches out.
As with other areas of music, what comes naturally is very often not the best you can do.
If you liked this article on guitar vibrato please share it with others.
photo credit: Balthus Van Tassel via photopincc
photo credit: haley8 via photopin cc