Sight-Reading App 'Notation Trainer'

Would you like to develop your sight-reading skills?
Sight-reading notation is a skill that takes a lot of practice.
Part of the problem is finding scores and exercises that are appropriate for your current sight-reading ability.
Often scores are too hard or too easy. And even a score of the right level of difficulty can soon become familiar so you end up playing, at least partly, from memory rather than truly sight-reading.
What's the solution?
Notation Trainer is a sight-reading app that has been developed to generate perfect sight-reading exercises that are tailored to your exact needs.
Notation Trainer generates notated exercises for all four of the most common clefs:
Alto clef
Treble clef
Tenor clef
Bass clef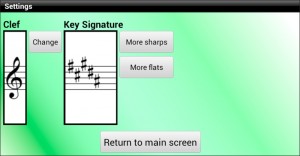 Once installed, choose the clef for your instrument and choose the key signature you would like to practise reading (all 15 are included).
Next, set the range of notes and select the maximum size of the interval you would like between notes from a second to an octave.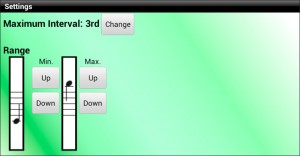 Notation Trainer will then generate an exercise of 100 notes based on these settings for you to perform on your instrument.
You can control the speed of the notes as they scroll across the screen so that the exercise is always challenging but achievable.
At the end of the exercise you can try again with a new sequence of notes or change the key, range or interval on the settings page to make the exercise more or less challenging.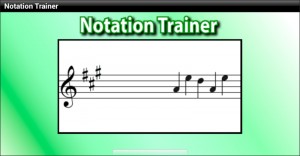 Regular use of the sight-reading app Notation Trainer, will quickly and efficiently help you to improve your sight-reading skills without having to constantly find new scores to practise from.
Who is this sight reading app for?
Notation Trainer is a sight-reading app suitable for any instrument including wind, strings, piano, guitar, brass and vocals; just choose the clef that is appropriate for your instrument.
Use Notation Trainer every day as part of your practice regime.

"I've tried sight-reading apps before…"
There are many sight reading apps available that claim to help you to sight-read, but which are not effective.
Notation Trainer is not a game; it is a serious learning tool for aspiring musicians to use with real instruments.
There is only one way to improve your ability to perform music from notation and that is to sight-reading notes and perform them on your instrument.
Notation Trainer helps you to do exactly that. It has been developed by a musician, for musicians.

"Can I use this sight-reading app without my instrument?"
This sight reading app is best used used with your instrument but you can still benefit from using it without your instrument.
This is particularly true in what would otherwise be 'dead time' such as travelling on public transport or waiting to meet someone.
The mental process of identifying notes as they appear onscreen, without performing them on your instrument, is still beneficial and is a large part of the sight-reading challenge.
The more time you can put into using Notation Trainer, the better.

"What if I change my mind about this sight reading app?"
If you decide this sight reading app is not for you, just email within 24 hours of installing it for an immediate refund. No questions asked.

Why Notation Trainer and not others sight-reading apps?
Because unlike other notation apps, Notation Trainer is all about substance rather than gimmicks.
It gives you the ability to tailer exercises to your exact needs, offering maximum flexibility and efficiency in learning.
Get sight-reading app Notation Trainer from Google or Amazon now:
If you find the sight-reading app Notation Trainer useful please leave a review in your app store. Please also share this page with others.