Guitar Practice Calculator
I find I work best when I have a goal. Don't you?

So, the point of this little calculator is to set a goal for how many hours of (focussed) practice that you want to achieve, and a date by which you want to achieve it.

The guitar practice calculator will work out your weekly and daily practice time required in order to achieve it. Then you need to get cracking and stick to the schedule!

[CP_CALCULATED_FIELDS id="8″]
For help using this guitar practice calculator click this image: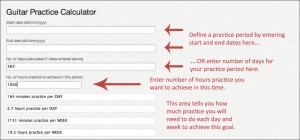 Settings targets is one of the best way to establish an effective guitar practice regime. If you haven't already done so, take a read of my article 10,000 hours of guitar practice for more on the importance of clocking up premium quality guitar practice hours.
And if you don't have a practice regime yet, join my mailing list to receive a free eBook on how to develop your own tailor-made practice regime.
If you find this guitar practice calculator useful please share it with others.
photo credit: teamjenkins via photopin cc